Thursday, October 29, pm EDT / 9am PDT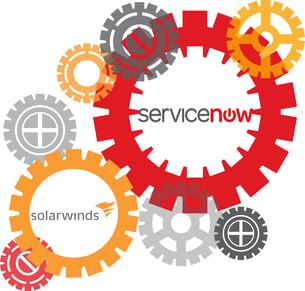 SolarWinds and ServiceNow are respectively, two of the most popular network management systems and ITSM ticketing solutions available on the market.
They're found everywhere, and often together in the same IT department.  Smart enterprises are integrating these two platforms to create a closed-loop process where alerts from SolarWinds automatically generate tickets in ServiceNow.
Upon remediation of the underlying incident, the ServiceNow ticket is then closed, and SolarWinds is automatically updated so the original alert is updated & dismissed.
This bi-directional information flow leverages the best of both platforms, and increases their ROI to the enterprise.
Questions that the webinar will answer:
How long does the integration take?
What technical skills are needed to do the integration?
What kinds of things can I do with SolarWinds & ServiceNow after the integration?
Speakers:
Looking forward to e-meeting you!
*If you'd rather watch the recording, simply register and we will send it to you.