Wednesday, August 31st, 12:00pm ET / 9:00am PT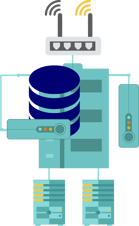 CMDB's can take years to build, and only seconds to break. It's been estimated that up to 85% of organizations attempting to build a CMDB fail, and one of the most egregious reasons is an overly manual approach.  For example, what happens when assets are added/removed/updated in your network monitoring system, but those changes become too tedious to propagate manually to your ITSM platform?
Please join us on Wednesday, August 31st for a webinar showing how IT Process Automation can ensure your CMDB is up-to-date, no matter how many sources it needs to synchronize with.  We'll provide a live demonstration of how changes in the Solarwinds Network Configuration Manager are automatically synched with the CMDB in ServiceNow Helsinki.
It's a highly practical webinar you won't want to miss!
Speakers:
---
Space is limited, so be sure to reserve your spot right away. Click here to sign up now!